People frequently ask us this riding arena question. In short, there are different riding arena sizes for different disciplines of horseback riding. Whether you build an equestrian facility with stables and an indoor riding ring or a covered riding area we can help. Below, we have answers to your most common questions.
Old Town Barns' riding arenas are custom designed and built to suit each individual's needs as riders. As a result, we build indoor riding arenas for any budget and riding discipline on the eastern coast. Depending on your budget, style, and riding needs, we customize just about anything. Any size is available, but it depends on your desired use, the location of the structure on your property, and your budget.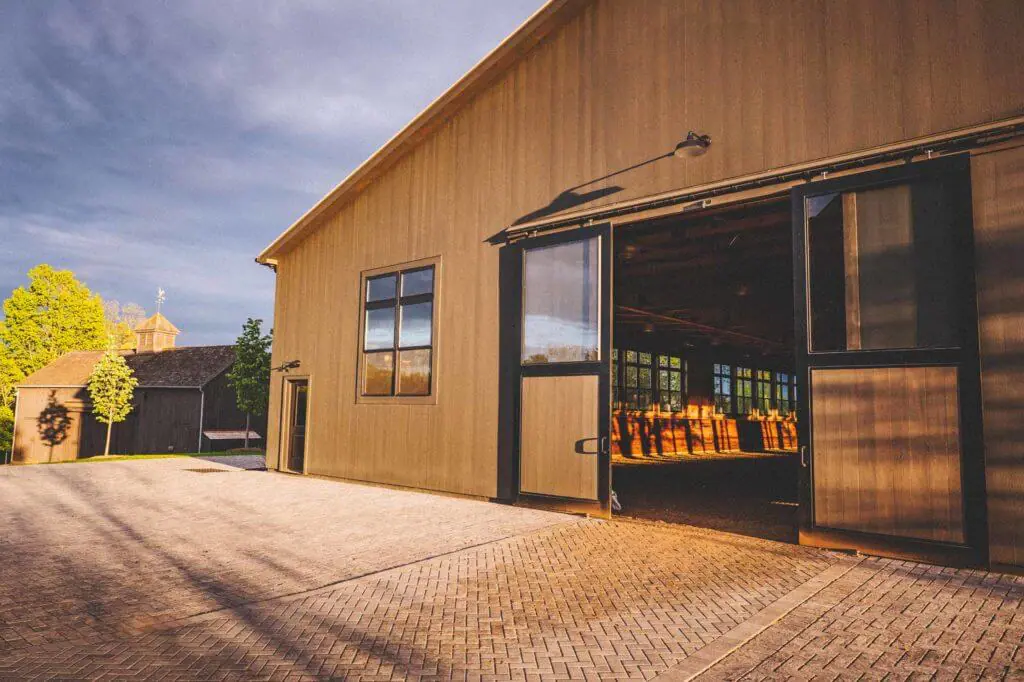 #1 First and Foremost: Riding Discipline, or Indoor Riding Ring Intended Use
It's important to consider how you intend to use the space and how many riders and horses will be in the building at one time.
The Two Most Common Disciplines are:
The Dressage riding style requires a smaller area than other riding forms. Dressage is considered an art and is an internationally recognized riding discipline. Competition size indoor riding arenas for Dressage have 20×60 meters of riding surface, which usually equates to a 70′ x 200′ building size.
For Jumping the indoor riding arena should be wider than dressage to accommodate a full course, and to allow skilled riders the ability to jump on the turn. The average size for Jumping is around 100′ x 200′. Hunter Jumpers indoor riding arenas are typically even larger at 100′ x 300′. We are equipped to build riding arenas of any size and style.
Be sure to check out our Riding Arena gallery to see the breadth of the arena's we've compiled.
#2 Riding Arena Location
At Old Town Barns we come out to assess your property. At that time we review with you all of your town's local building codes and rules. From there, we can provide you with suggestions on where you can build your indoor riding arena or equestrian facility. It's important to find a location on your property that will allow for easy drainage, accessibility, desired building size, and a safe area for the horses and people alike.
All of this information informs the size riding arena that your property allows. From there we will begin the process of working with the town to get the right permits.
In conclusion, everything we build is custom to its owner. Likewise, we're here to make the process as simple as we can. Contact us today to schedule a time for us to come out and start the process of building a Riding Arena.